Sealcoating in Kent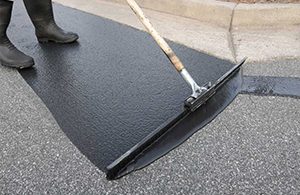 With the advent of summer, it is necessary to repair and maintain different driveways and parking lots. Sealcoating your driveway or parking lot can be the perfect option for enhancing the longevity of the asphalt. It is also useful in enhancing the curb appeal of the property, and sealcoating can save you an ample amount of money in the long run. If you avoid seal coating, you will find cracks in the asphalt, which may result in potholes. So you can reach out to us at Kent Asphalt Paving, located in Kent, Washington, in order to discuss different requirements. You may also reach out to us in order to get different quotes on all Asphalt and Concrete paving services. We provide assistance to our customers about Kent Sealcoating for enhancing the life and longevity of your asphalt.
Add to the Appearance
As the driveways are in the same condition for a prolonged period of time, it may end up looking rugged. As you choose seal coating for your asphalt or concrete surface, the sealant may bring an improvement in the aesthetics and visual appeal of the driveway, thereby offering it an attractive look. It brings an improvement in aesthetics. The sealants are known to have a wide assortment of gloss levels and offer a unique finish to the concrete. It plays a vital role in making the concrete more vibrant and offering it an appealing look.
Saving the Repair Cost
The low cost of sealcoating is considered to be a prime benefit of the sealcoating process. While opting for a patch of asphalt or concrete Parking Lot Sealcoating, it is effective in bringing the surface closer to the original state and prevents additional damage. The asphalt or concrete pavement is not going to get damaged and will not require frequent repair. Thus, you do not need to spend a lot of money for your repairs.
Stain Resistance
In case you are willing to remove the stains present on the concrete driveway, it is recommended to opt for seal coating. Leakage of grease and oil can leave to stain marks on the driveway. In case you fail to remove these stains, these chemicals can lead to the weakening of the driveway. With seal coating, it can be ensured that there will be no visible stains on the concrete driveway. The removal of stains from your parking lot or driveway is useful in avoiding damage. It is also beneficial in enhancing the aesthetics of the driveway.
Get in Touch
So, you can give a call to us at Kent Asphalt Paving, located in Kent, Washington at 253-499-8811 and receive free quotes on different types of Asphalt and Concrete paving services. We have a team of expert professionals, who have an ample amount of experience in offering different types of concrete and asphalt pavement services. We are fully licensed and we have earned a high reputation in accomplishing the seal coating requirements of our clients throughout Kent, Washington. We also offer asphalt and concrete repair services to the residents and businesses in Kent, WA. We provide commercial paving and residential flatwork services which are inclusive of road striping, parking lot striping, ADA accessibility, and roadway seal coating services.