Striping, Signage & Wheel Stops in Kent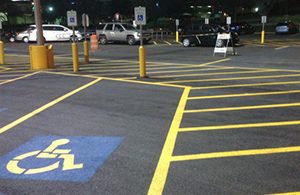 Roadways and parking lots are a important part of our lives. Being able to properly navigate these spaces is essential to the safety of your vehicle as well as yourself. When well marked out, they can prevent traffic jams or accidents. When you choose us for your roadway or parking lot striping, you get value for your money; it's cost-effective and long lasting. For quality asphalt striping, you need to hire the Kent, WA asphalt paving experts. Below are some of the reasons you should choose Kent Asphalt Paving.
Parking Lot Striping and Road Striping Services
Parking lot striping is an integral part of the asphalting process. Whether it is for the purpose of retail or professional parking lots, they are the first thing visitors and clients see on the way to your building.
Parking lot striping may look simple, but it is an elaborate production. When we are constructing, we put measures in advance to ensure a good plan that maximizes the area. All roadways are different; some may be large or small, while others have complicated shapes that require a lot of skill in striping. Professionals take time to lay the chalk line before applying the paint. Striping should be entirely left to professionals for the best result. At Kent Asphalt Paving, we install quality parking lot striping to our customers at affordable prices.
Install Accessible Striping
A professional asphalt paving company should mark spots clearly to avoid any liability. We separate the route from pedestrians and driveways to allow clear accessibility. Apart from adding accessibility they also boost safety for the customers facing oncoming traffic. We focus on asphalt paving maintenance. To keep up on this service we offer asphalt repair, crack sealing, and sealing coating services for the professionally managed property.
Signage Services
Signage has different information, but every piece of information is critical. Our team is able to design signs in order to inform drivers of directions, warnings, and services. There are various informational elements printed within these categories of signage.
Most signage is put outside, and due to strong winds and snowy weather, they will need to be properly reinforced. We have the necessary materials and professionals to build strong and presentable signage to withstand all types of bad weather.
Wheel Stops
Some drivers can be reckless; they may overshoot the parking spot and jump past the curb or on to the sidewalk. As a company it is necessary to protect the pedestrians on your property, and wheel stops may prevent a car from striking a pedestrian. Wheels stops have the ability to prevent an injury or even death. At Kent Asphalt Paving we will install quality Wheel Stops.
Licensed and Insured
When selecting an asphalt paving company, you need to put guarantee into consideration. Is it a legit company? What about when they do nonstandard work?For Kent Asphalt Paving we offer compensation to our work when you feel it doesn't meet your expectation.All our services and workers are insured during theconstruction process. We are licensed and regulated by the law to provide our services to Kent, Washington.
Contact Us
If you're looking for asphalt Paving services in Kent or the surrounding areas. At Kent Asphalt Paving we offer the best paving services. We have the expertise to provide the best paving services to our customers. Our client satisfaction is our priority!